Wayfarer's Deck: The Sea of Grass
What is Wayfarer's Deck?
This series of 50-card decks with encounters, wonders, mysteries, puzzles, and findings provides a convenient way of creating engaging situations for the players. Instead of rolling for random encounters, pick a card (or draw one at random, or roll a d100 and divide the result by two - whatever sounds like fun for you) and let yourself be inspired.
The cards introduce a variety of encounters and don't dictate the solutions. You're never forced to fight whatever you've found, and the player have a full agency to do whatever they wish. There are no stat blocks and no answers to the mysteries - you're free to take the situation wherever the inspiration takes you.
The cards are setting-agnostic and compatible with any fantasy game, solo or in a party play, with or without a game master.

A hike of a lifetime
A sea of grass stretches out to the horizon, sparsely accentuated with shrubs and trees. A giant herd of massive herbivores moves slowly some distance away from you, grazing on the greens in their constant migration. The birds are circling above your head. From behind the hill to your right, you can hear people talking, toiling away in the hot midday sun, working their fields. It's a bright, beautiful day, and nothing bad is about to happen... You'd see that coming from far away, right?
Wayfarer's Deck: The Sea of Grass invites you for a trip through an endless grassland, whether it's a steppe, a prairie, a savanna, or any other shrubland. Discover the plants and animals, marvel at the effectiveness of predators' camouflage (if you manage to spot them in time), give a helping hand to the hard-working farmers and shepherds, and get just a tiny bit lost in the tall grass.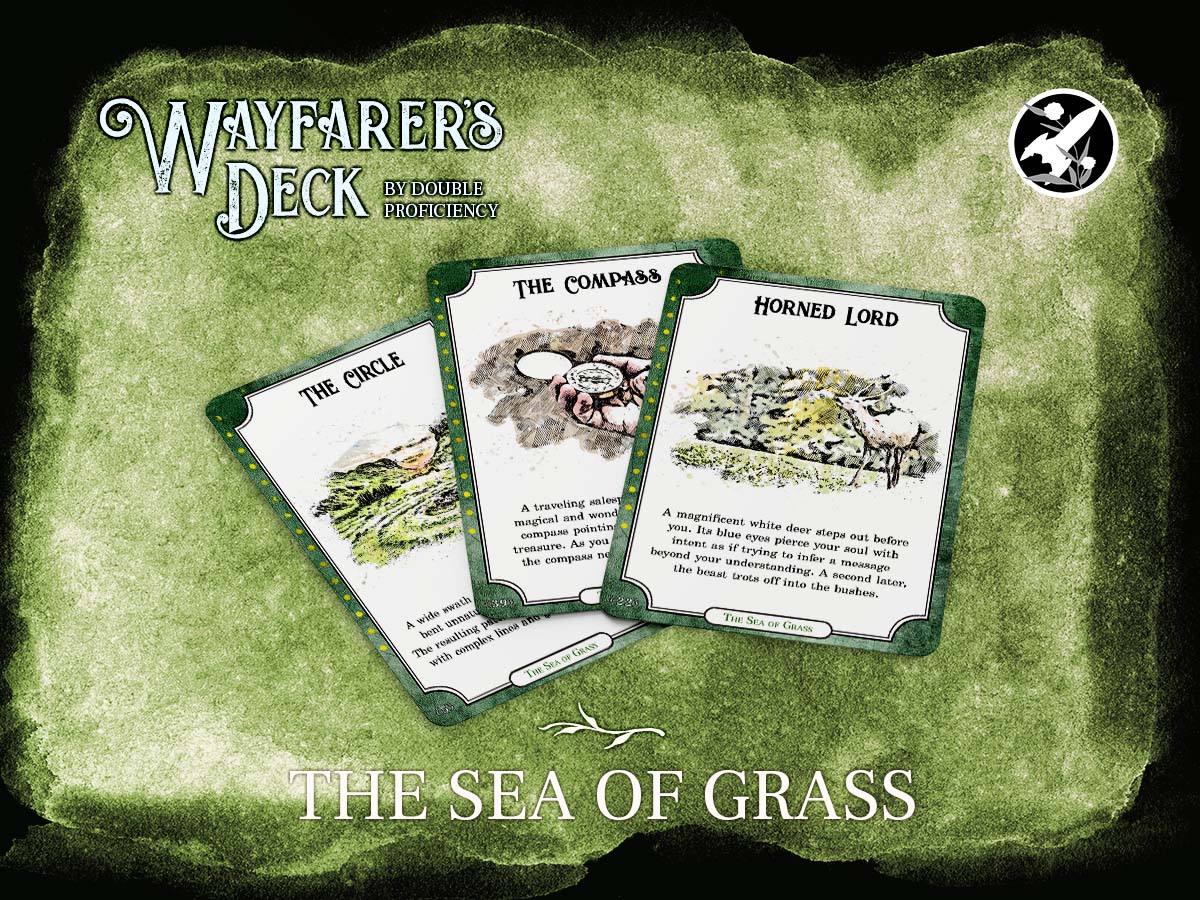 Accessibility
This PDF has been optimized for the screen-reader accessibility to the best of our abilities. It includes tags, set reading order, and alternative text for the images. It is also fully bookmarked. If there's anything else we can do to make the experience better, let us know.
Looking for More?
Going somewhere else? Check the whole collection!
Purchase
In order to download this deck you must purchase it at or above the minimum price of $5 USD. You will get access to the following files:
WD_12_TheSeaOfGrass.pdf
16 MB
Exclusive content
Support this deck at or above a special price point to receive something exclusive.
Community Copy Donation
Every copy of the deck purchased at the price of $8 or above adds one community copy to the pool. If you can do it, help the others :)
Community Copy
If you need it, take it. No judgement and no questions asked.
Every copy of the deck purchased at the price of $8 or above adds one community copy to the pool.