Incitatus
A tense, character-driven sci-fi thriller full of action, corporate intrigue, and creeping-dread horror.
A young woman defies her father in search of treasure among the stars...

Shao has two choices: live and die the boring corporate life her father demands she live OR go on an adventure searching for space pirate treasure.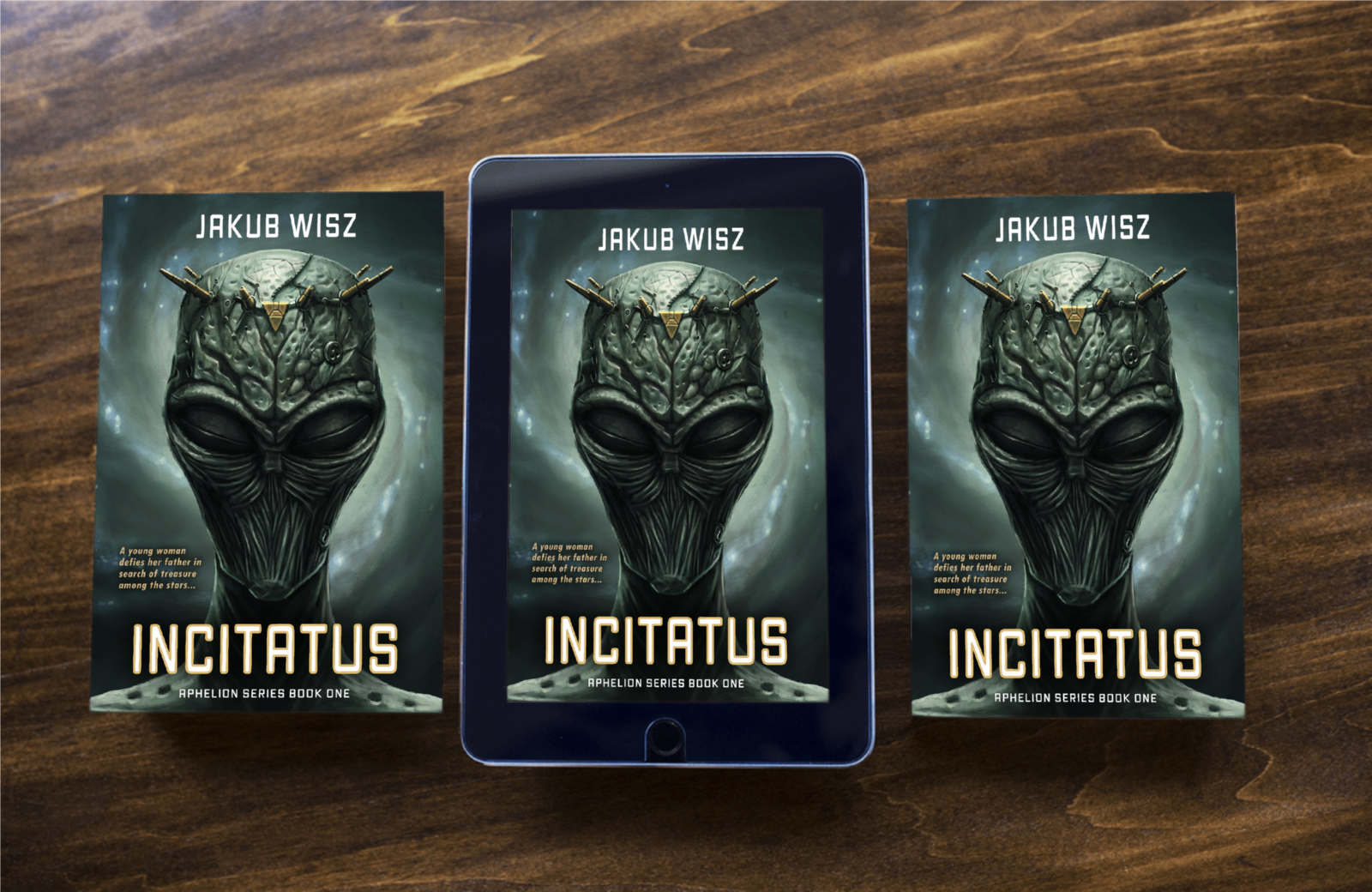 Shao hates her boring, corporate-driven spaceship pilot job. Living up to her father's vision for her hasn't been easy, but she's been a dutiful daughter. Until she discovers a data chip leading to a pirate treasure. Suddenly faced with a new path, she convinces her crew to ditch their corporate responsibilities to go on a treasure hunt instead.
Shao has no idea she's made a huge mistake and that her crew-including her girlfriend, Mai Wren-will wind up paying for.

With forces beyond her knowledge at play, Shao stands to lose everything she holds dear. Her decisions will be her downfall and she'll have to make tough calls that'll forever alter her future and the lives of her crew. Some of them might not survive, but that was a choice Shao made, and she must live with the consequences... no matter what they may be.

Set in a hard sci-fi world of Aphelion RPG, Incitatus takes place in the near future, after humanity colonized the entire Solar System, and technology blurred the lines between humans and machines.
This 358-page novel is full of action, conflicting interests, intrigue, and fear of the unknown, both in the outside world and inside the human mind. From transhumanist themes to matters of love, individuality, and personal freedom, Incitatus is an engaging, exciting thriller for adult audience.
Reviews!
"This was such a creepy and atmospheric read. Dark and almost gothic in its approach it was well written with a compelling storyline and strongly developed characters, which was one of my favourite parts of the book." Arla Harrow, reviewer on NetGalley
"This edge-of-your-seat space adventure/thriller will have you laughing, crying, running for your life, and hungry for more." Teresa Grabs, editor
"Incorporating the most compelling depiction of a dystopian society in years, Incitatus is a sorely needed innovation for the science fiction genre. Throughout the story, the author takes you on a daring journey along with an engrossing cast of interesting characters." Garrett Bradford, beta-reader
If you liked the book, please consider leaving a rating or a review of Goodreads - it helps us enormously!
Physical copies available through Amazon, Barnes & Noble, and any other places where other books are sold!
Purchase
In order to download this book you must purchase it at or above the minimum price of $5 USD. You will get access to the following files:
Incitatus - Jakub Wisz.epub
2 MB
Incitatus - Jakub Wisz.mobi
1 MB
Incitatus - Jakub Wisz.pdf
2 MB
Exclusive content
Support this book at or above a special price point to receive something exclusive.
Community Copy Donation
Every copy of the book purchased at the price of $8 or above adds one community copy to the pool. If you can do it, help the others :)
Community Copy
If you need it, take it. No judgement and no questions asked.
Every copy of the book purchased at the price of $8 or above adds one community copy to the pool.
Download demo